How to Import Outlook MSG Emails & Contacts into Gmail (Google Mail)?
In this blog post, our experts are ready for proceeding with the task to import MSG to Gmail. After reading this special blog post, you will be able to import Outlook messages to Gmail Google's email account. As we all know that Gmail is the most famous cloud-based freeware email service. These days, users are preferring to use Gmail because it is compulsory to have a Gmail account for accessing Google's services.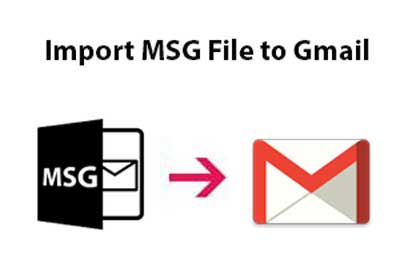 Users are considering to use the Gmail service for sending and receiving the email messages. Users are avoiding the use of other email programs because it is a difficult task to manage multiple email accounts. This particular blog post is completely around the importing of MSG files to Gmail. We will provide the other information later but now it is the time to explain the step-by-step process to import messages to Gmail account.
How to Import MSG to Gmail with Attachments?
Don't waste your time, just download all-in-one MSG Converter for solving most of the .msg file extension related issues. It is an excellent software to import .msg into Gmail account. Experts say to use this software because it is a fully automatic program that asks only Google Mail account credentials. This application is also capable to import emails, contacts, and appointments related .msg files into Google Mail straightforwardly.
1 – Start the recommended software and upload .msg files in the product's interface. The tool has dual options for inserting Outlook messages like Select Files or Select Folders.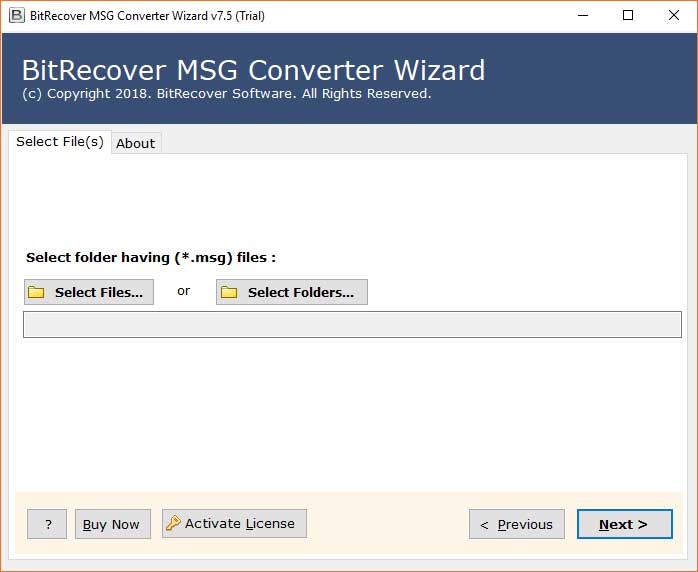 2 – Check desired MSG folders from the software interface and click on the Next button to continue.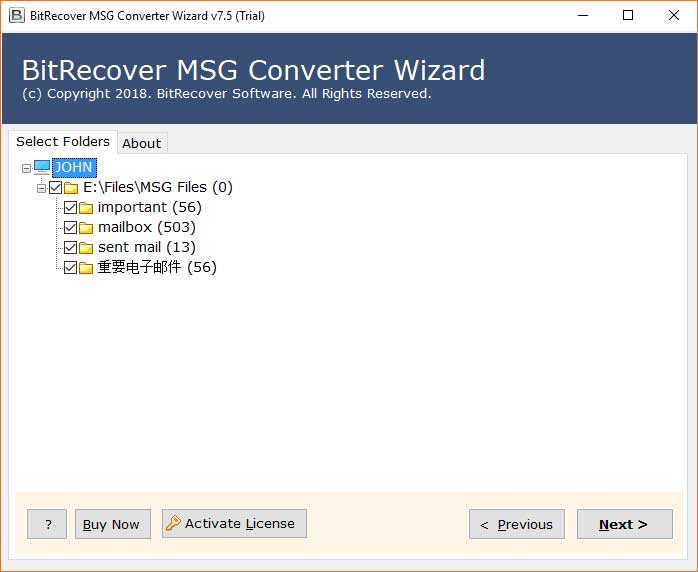 3 – Select Gmail from saving formats. The tool is offering more than 30 saving formats.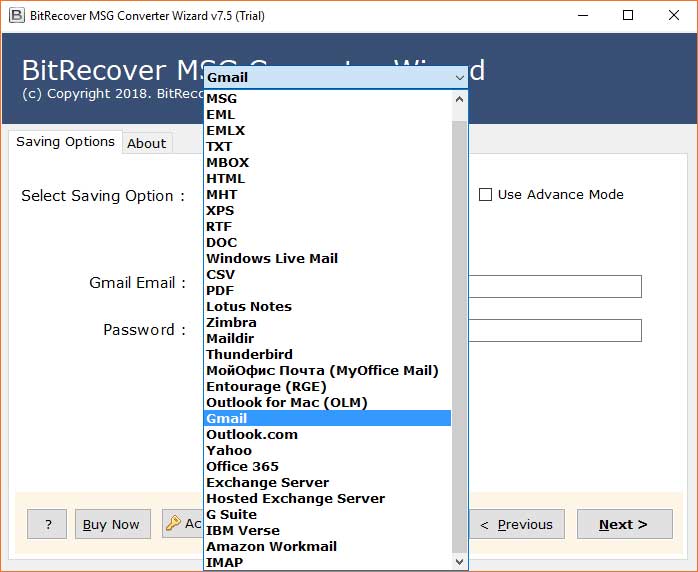 4 – Enter Google Mail account login details like Email ID & Password and press the Next button to continue.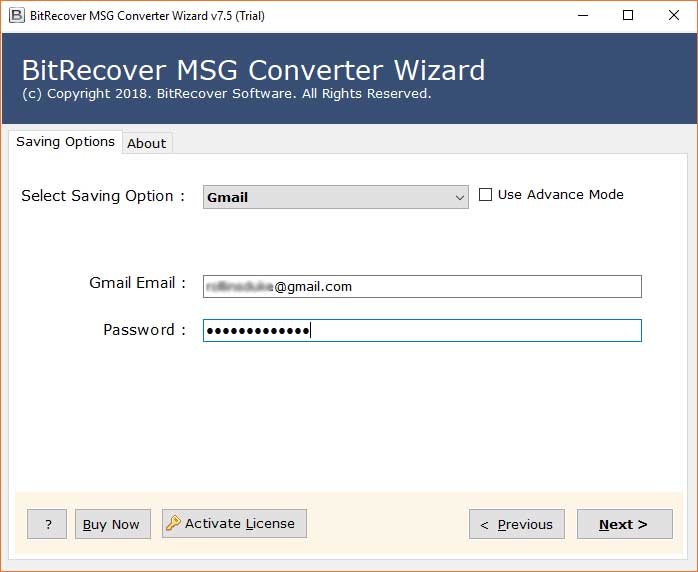 5 – MSG to Gmail importing procedure is running with a live conversion progress report, please wait.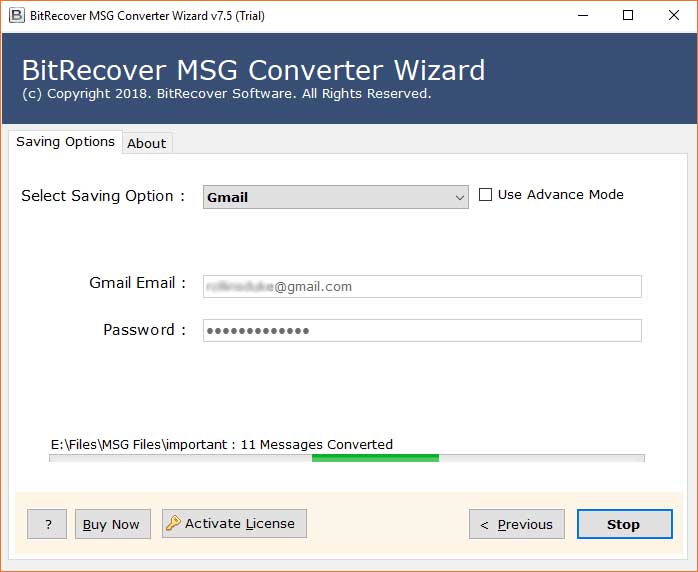 6 – The task is finished successfully, you can see the message of completion and hit on the Ok button.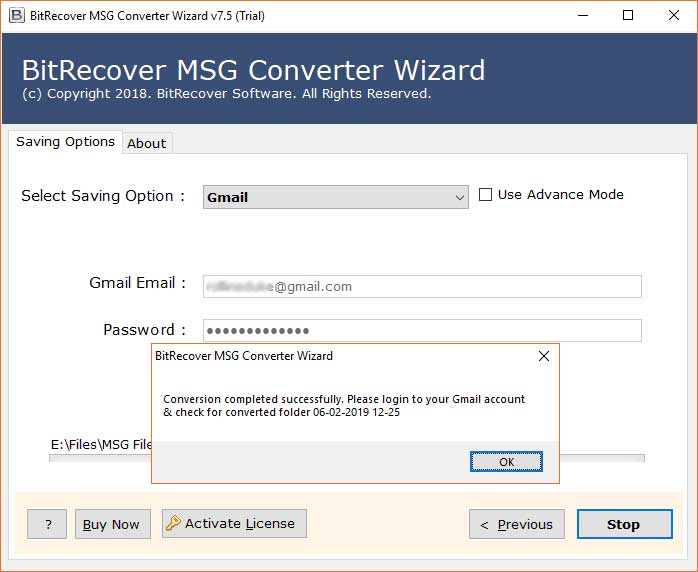 7 – At last, login to your Google Gmail account to access the imported Outlook messages.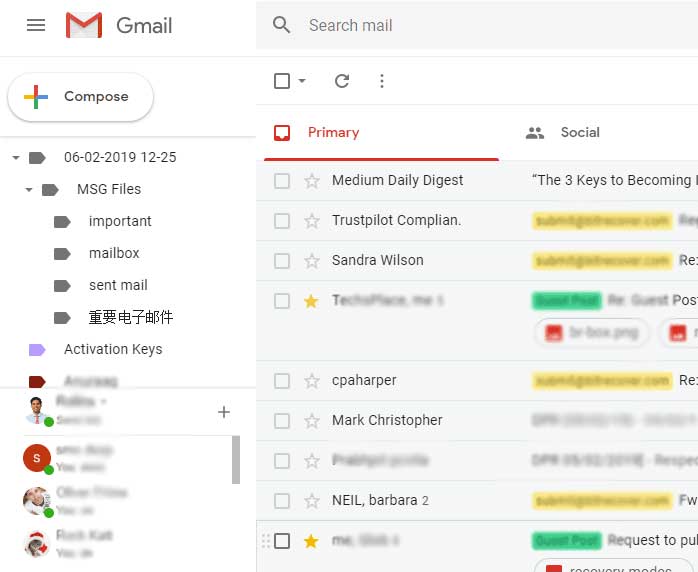 A Crucial User's Query

I have recently saved multiple Outlook emails as MSG files.  Now, I have an approx 5k Outlook message in .msg file extension. I have recently created a Google Mail account for using Google Search Console & Analytics. Actually, I have recently created a website for my online business. Nowadays, I am avoiding the use of other email clients and services. I have decided to use only Gmail for sending and receiving the emails.

I want to import Outlook messages to Gmail together with email attachments. Kindly suggest me a trustworthy solution. My some of MSG file has important contacts and appointments. I want to get all Outlook messages, contacts, appointments, etc. into the Gmail freeware cloud email service. I am an enterprise-level administrator who is looking for an effortless technique for solving my problem.

– Jaxon, California
Why Do Import Outlook Messages to Gmail?
Gmail is a cloud-based freeware email service so it can be easily accessed from anywhere and anytime.
Users can easily log in to the same Google Mail account using different types of devices like PC, Mobile, Tablet, etc.
Gmail contacts can be easily synchronized with multiple devices to users can easily find out the contacts.
Google Mail account allows access to different types of Google's services like Google Map, Search Console, Analytics, YouTube, Google Drive, etc.
Using Gmail Id, users can create online Google Docs, Google Sheets and Google Slides hassle-free for personal and business use.
Google's Gmail allows us to import and export emails, contacts, calendars, etc. information effortlessly.
Outlook MSG to Gmail Import Tool Features
It is fully automatic software that allows to import .msg into Gmail directly by asking the account credentials.
This application is capable to import MSG contacts to Gmail inclusive of complete details.
MSG to Gmail Import Software is authorized to import multiple Microsoft Outlook messages into Google Mail.
The tool is compatible with MSG files of Microsoft Outlook 2019, 2016, 2013, 2010, 2007, 2003, 2002, etc.
MSG to Google Mail Import Tool is an authentic utility that supports multilingual (Non-English) MSG files.
It holds all important components of Outlook messages like attachments, signature, subject, to, cc, bcc, from, email body, etc.
MSG to Gmail Import App is specially developed for Windows OS users that is compatible with Win 10, 8.1, 8, 7, Vista, XP, etc.
Frequently Asked Questions
Que 1 – Does MSG to Gmail Import Software allow to import MSG contacts to Gmail?
Ans – Yes, it is a great software for Windows users to import MSG contacts to Gmail.
Que 2 – Can import both Unicode & ANSI MSG files into Google Mail using your toolkit?
Ans – Yes, MSG to Google Mail Import Tool is compatible with Unicode as well as ANSI MSG messages.
Que 3 – Does your software preserve folder structure during the completion of the task?
Ans – Yes, of course, this application keeps the original folder structure during importing Outlook messages into the Gmail account.
Closure
Outlook Message to Gmail Import Software comes with a free trial edition so that users can test the software functionality before purchase. The free demo edition of the tool permits you to import a maximum of 25 Outlook messages into Gmail account with proper details. First, check the software working process and after getting complete satisfaction, you can grab the license keys. Pro edition of the tool is capable to import unlimited .msg files into Google Mail.